Cauvery College of Nursing Features and Facilities

Cauvery College of Nursing Features and Facilities
15, 7th Cross, Shivaji Marg, Near Mohall, Shivaji Marg, Karnataka, Mysore – 570007, India
Rajiv Gandhi University of Health Sciences (RGUHS) Bangalore, Karnataka.
Established Year: 2004 Ownership: Private Total Courses: 4 Approved by : INC | KSNC Courses: B.Sc, GNM, PB B.Sc, M.Sc Nursing Type of College: Nursing
Features and Facilities
Cauvery College of Nursing Features and Facilities are:
Hostels
4 sharing rooms with 24 hour security and power backup.
Laboratories
Students are provided with well-furnished and fully equipped laboratories. Students are given individual attention and taught to develop their competence and skills before the first contact with the patient.
Placements
Placements of students are guaranteed in parent hospital and in abroad also.
Transportation
Better transport facilities available for community training and other transportations.
Clinical Facilities
The management provides medical support for students as well as staff at parent hospital.
Classroom
Classrooms are quite spacious and well ventilated with latest gadgets.
Library
College has huge collection of text books, reference book, foreign and Indian Journal, encyclopaedias, dictionaries and other books.
Free Internet
We provide internet facility in campus during college hours for the students to support academic purpose and project work.
Overview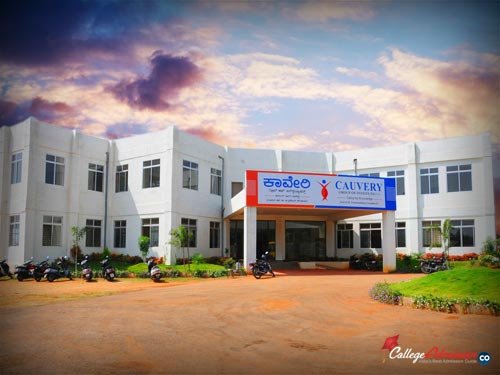 The Cauvery College of Nursing, Mysore, Karnataka:- Cauvery School of Nursing was started in the year 2003, located at 15, 7th Cross, Shivaji Marg, Near Mohall, Shivaji Marg, Mysuru, Karnataka, and it's affiliated from Rajiv Gandhi University of Health Sciences [RGUHS], Bangalore, approval from Indian Nursing Council (INC) and Karnataka State Nursing Council (KSNC), which was later upgraded to College of Nursing in the year 2004. Cauvery College of Nursing has become one of the best Nursing Colleges in Karnataka. Postgraduate courses were started in the year 2008 with approval for all the five M.Sc. Nursing specialty subjects. P.B.B.Sc course was started in the year 2009. The institute offers four courses which include GNM Nursing (General Nursing and Midwifery), B.Sc Nursing, PB.BSc Nursing and M.Sc Nursing. The vision of the college is to set up a high standard and quality nursing care. All major features and facilities are provided at the campus, that's are Hostel, Hospital, Classroom, Seminar halls, Auditorium, Library, Laboratory, Transportation, Academic Zone, Mess, Computer Lab, Counseling, Medical Facilities, Placements, Sports, Play Ground, Medical Labs.
Cauvery College of Nursing Contact Details
Placements
Nursing Job Recruiting Organizations...

Write A Review
Admission Support....
5 out of 5 stars (based on 1 review)
We Can Help you to Direct Seat Booking with Admission Procedure in Cauvery College of Nursing, Mysore. Please Contact Us.
960 605 1111 | 960 609 1111
REGISTER NOW !
VIDEO
SIMILAR NURSING COLLEGES IN BANGALORE
Similar Nursing Colleges in Karnataka
OTHER NURSING COURSES
Other Nursing Courses
Kanataka Nursing Colleges Thumbnail Views...
Content will be updated...