Mount Carmel College of Nursing Placements

Mount Carmel College Placements
Mount Carmel College of Nursing Placements: MCCN has a placement cell and career guidance cell for recruiting the students. The major recruiters and tie-ups of mccn are Fortis Hospital, Nimhans, Columbia Asia, Aster CMI, People tree hospital, Baptist Hospital, Apollo Hospital, Sparsh Hospitals, BGS Global Hospitals, KC General Hospital, North Bangalore Hospital, Association of people with disability (APD), Abhaya Hospital, Provision Asia, Nightingale Hospital, St Theresa's Multispecialty Hospital, Emergency Trauma Care center, Indira Gandhi Institute of Child health, etc.
Job Type
Hospitals
Private hospitals
Primary Health Centers
Schools
Entrance Exams
Admission on the basis of candidate's performance in National Eligibility cum Entrance Test Undergraduate (NEET UG ) for Graduation and NEET PG for Post Graduation
Scope of Nursing Course
The World Health Organization (WHO) report, State of the World's Nursing, estimates there was a global shortage of 5.9 million nurses in 2018, a slight improvement from the 6.6 million shortage in 2016. This means that nursing is a profession that is dire demand now and most probably for the foreseeable future. Apart from the demand, we believe nursing is a career field unlike any other where the necessity for nobility and love is required with the very demanding role of the job. It comes as no surprise that even during a pandemic, one of the few roles in the world which require their no lapse on their part is the medical field and in extension, nurses.
Overview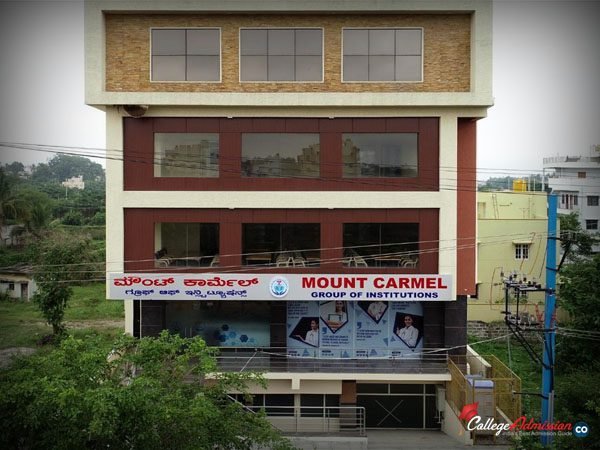 Mount Carmel College of Nursing Admission Bangalore, Karnataka: Mount Carmel College of Nursing Bangalore is an initiative that is undertaken by the Mount Carmel Educational Trust for the purpose of creating premium nursing education for those who choose to pursue a career in this solemn role. Mount Carmel College of Nursing Affaliated by Rajiv Gandhi University of Health Sciences Bangalore and it's Accreditted from Indian Nursing Council (INC) New Delhi, Karnataka State Nursing Council (KSNC) Bangalore. Courses are B.Sc Nursing, PB B.Sc Nursing, GNM Nursing, M.Sc Nursing. We aspire to create the next wave of students who will not only compete to rise to the ranks of the best among their colleagues, but we also choose to install in them the grace required to serve mankind through their lives. Mount Carmel College of Nursing offering the Bachelor Degree course and Diploma course also. Spacious campus with WIfi, CCTV Enabled. Well-equipped classrooms, Computer labs, Nursing Labs, AV Aided Classrooms, well-stocked library with All types of resources, such as Books, AudioBooks/Lectures, Video lectures, Lecture Presentations/Notes, Question Papers, Solutions, etc. Separate Hostels are available for boys and Girls.
Other Information
| | |
| --- | --- |
| Founded in: | 2020 |
| Founder: | Mount Carmel Educational & Charitable Trust |
| Placements | 100% Assured |
| Website: | www.mccn.edu |
| City: | Bangalore |
| State: | Karnataka |
| Country: | India |
Mount Carmel College of Nursing Bangalore Contact Details
, , Bengalore, Karnataka – 560110, India
MOUNT CARMEL COLLEGE OF NURSING, BANGALORE
Post 560032, No.51,
Block 4 Manganahalli Rd Sir M Vishweshwaraiah Layout,
Vishweshwaraiah Layout, SMV Layout
Bangalore – 560110, Karnataka, India
Tel: 960 605 1111 | 960 609 1111
E-mail: [email protected]
Web: www.mccn.edu
Placements
Outstanding College
Excellent College with good teaching faculty.
Admission support...
Admission Support....
4.7 out of 5 stars (based on 3 reviews)
We Can Help you to Direct Seat Booking and Admission Procedure in Mount Carmel College of Nursing Bangalore. Please Contact Us.
960 605 1111 | 960 609 1111
REGISTER NOW !
VIDEO
SIMILAR NURSING COLLEGES IN BANGALORE
Similar Nursing Colleges in Karnataka
OTHER NURSING COURSES
Other Nursing Courses
Kanataka Nursing Colleges Thumbnail Views...
Content will be updated...